"We are indeed living and operating in unprecedented times; even so, our desire to connect has never wavered"
How to run a successful hybrid event
Debating whether your event should be live or virtual? Try the best of both worlds.
As you have no doubt been informed by a constant stream of commercials, news articles, and social media posts, we are living in uncertain times. Now it seems that uncertainty has extended to event planning. While many organizations have had to cancel recent events in response to COVID-19, we are starting to see signs that people are ready to get back together. While it must be noted that some parts of the country are seeing rising rates of infection, the United States as a whole is gradually scaling down lockdown measures. Most states are in the process of reopening, airlines are reinstating standard flight schedules, and hotels are implementing safety measures to host events once again.
Nonetheless, there is still widespread public concern about returning to large gatherings before a vaccine is made available. Faced with such contrasting cues, many organizations are left wondering whether to begin planning live events or to continue playing it safe with virtual meetings. Luckily, there's a solution that can satisfy both approaches.
Let's talk about hybrid events.
What is a hybrid event?
A hybrid event borrows elements of both in-person and virtual events to create an experience that caters to audiences who favor either format. There is no strict guideline for determining what amount of a hybrid event should be digital. Not every hybrid event will feature the same live components, either. It all depends on the host's primary goals and production capabilities.
73% of Event Planners Will Run a Hybrid Event in 2020

Source: hotelbusiness.com
Why should you consider hosting a hybrid event?
Before you begin planning a hybrid event, understand that you will be presenting for two separate audiences—those who physically show up for the event and those who tune in remotely. Perhaps you're wondering why you should split your attendees in the first place. According to a recent survey, over 70% of participants prefer to attend conferences in person. However, government regulations and personal travel concerns are both valid reasons for individuals to stay home. To offer an experience that satisfies both parties, prepare content that applies to everyone.
Determine the size of your live audience
Be mindful of social distancing regulations when researching event spaces. Depending on the size of your audience, you may have to limit the number of in-person attendees. Regardless, it is likely your live audience will be smaller than those you have typically hosted in the past.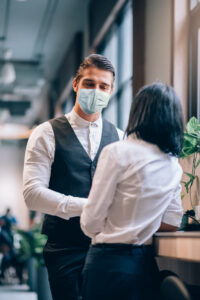 Set the stage
Spreading out your attendees can also diminish some of the intimacy that is so valued in personal gatherings. To improve this situation, set your stage in ¾ round; this gives your attendees plenty of room to socially distance while also putting them closer to your speakers. This also allows you to include the audience in certain camera angles, which helps your remote audience feel connected to the live experience.
Cater to everyone
Incorporating the audience into your camera angles is just one way to blur the boundaries between in-person and virtual viewing. Think of your set as a broadcast stage with a live audience. Design your staging and screens so that you're able to capture presentations and speakers in one shot. This gives virtual attendees a taste of what it feels like to be in the room. Speaking of presentations, to ensure they work for your live event as well as your livestream, set them in 16:9 ratio. When you cut to your full-screen presentations on your virtual feed, they will already be optimized for the platform.
Create an agenda
Creating an agenda for two separate audiences can be tricky, but from the first point of registration to the closing survey, you should strive to engage attendees in every location. Here are some tips for building a hybrid schedule:
Consider these ideas when building your agenda:
Your virtual attendees may be spread across multiple regions. Be mindful of this when determining the start and end time for daily sessions. Designing your event with some on-demand components can help mitigate the total time required.
Divide meetings into segments:
You can conduct Q&A over a digital platform to ensure everyone has a chance to participate. (We love slido and Mentimeter)
Play video exercises between breakouts or a general session:
This helps attendees stay active and focused.
Host virtual happy hours:
You can play a livestream of someone mixing a drink at home while viewers make their own and chat with each other.
Ensure presenters engage both audiences
It's important to treat your live audience and the virtual audience as independent groups receiving the same message. Help presenters understand that while they may only have a handful of people in front of them, they're presenting for a second (typically larger) audience as well. Devote extra rehearsal time and speaker coaching into the production schedule. Scripting the show in a talk show or panel-style format can also help elevate the energy in the room.
Choose your delivery method
It's a common misconception that hybrid events must host live and virtual sessions simultaneously. While livestreaming is certainly an option, pre-recording content affords presenters considerable flexibility.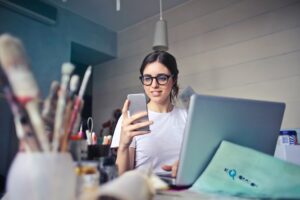 For example, you can prepare a breakout session in the form of "Learning Lab" or VOD that allows attendees to view content at their leisure; think "Netflix." These sessions can also live on within a post-event site, which can be distributed to new attendees and updated as needed. After virtual attendees watch a pre-recorded session, the speaker can then connect to a live feed to engage in follow-up discussions or Q&A.
If you prefer to host a virtual video conference, be sure to have a production team present at the live location. A notes monitor will be responsible for sharing virtual audience responses with the presenters on stage.
Use an event app
By keeping onsite and remote attendees connected and engaged with one another, an app can be an invaluable asset for any hybrid event. The app has endless reach, which brings parity to both audiences.
Message alerts allow you to reach all attendees simultaneously with important information and interactive prompts
This helps everyone be "seen." You can encourage both live and virtual attendees to connect through the platform.
In addition to listing room locations for onsite attendees and web links for virtual viewers, the agenda can also host surveys, polls, and Q&As.
A private social media channel allows attendees to share photos, post comments, and join group conversations.
When it comes to deciding between live events or virtual conferences, hybrid events truly offer the best of both worlds. Though they may demand more consideration than your typical conference, the payoff is undoubtedly worth it.
Yes, we are indeed living and operating in unprecedented times; even so, our desire to connect has never wavered. Though we cannot yet return to the way things were, we can start to work towards responsible methods for meeting each other in person. We will continue to move forward with caution and flexibility. After all, flexibility is a defining feature of hybrid events. By always making safety our highest priority, we will remain prepared for every possibility.
Thinking of hosting a hybrid event? Browse our capabilities and easily schedule a chat today.