Connect with your virtual event attendees like never before!
Download our Virtual Event Roadmap or schedule a 15-minute demo or consultation today. Let Unbridled take your next virtual or hybrid event to the next level.
Virtual events with immersive reality.
Going virtual doesn't mean forfeiting face-to-face interaction. Our virtual event platform can be customized to keep your community engaged and active. Connect to your audience from anywhere with our end-to-end virtual networking capabilities. Our vast selection of unbundled services offers everything you need to produce your event under one roof.
We'll work hand-in-hand with you to create an event that informs and inspires your audience in equal measure. Our planning and production experts will help you develop an event strategy that focuses on your particular needs, all while providing peerless security, quality, and reliability.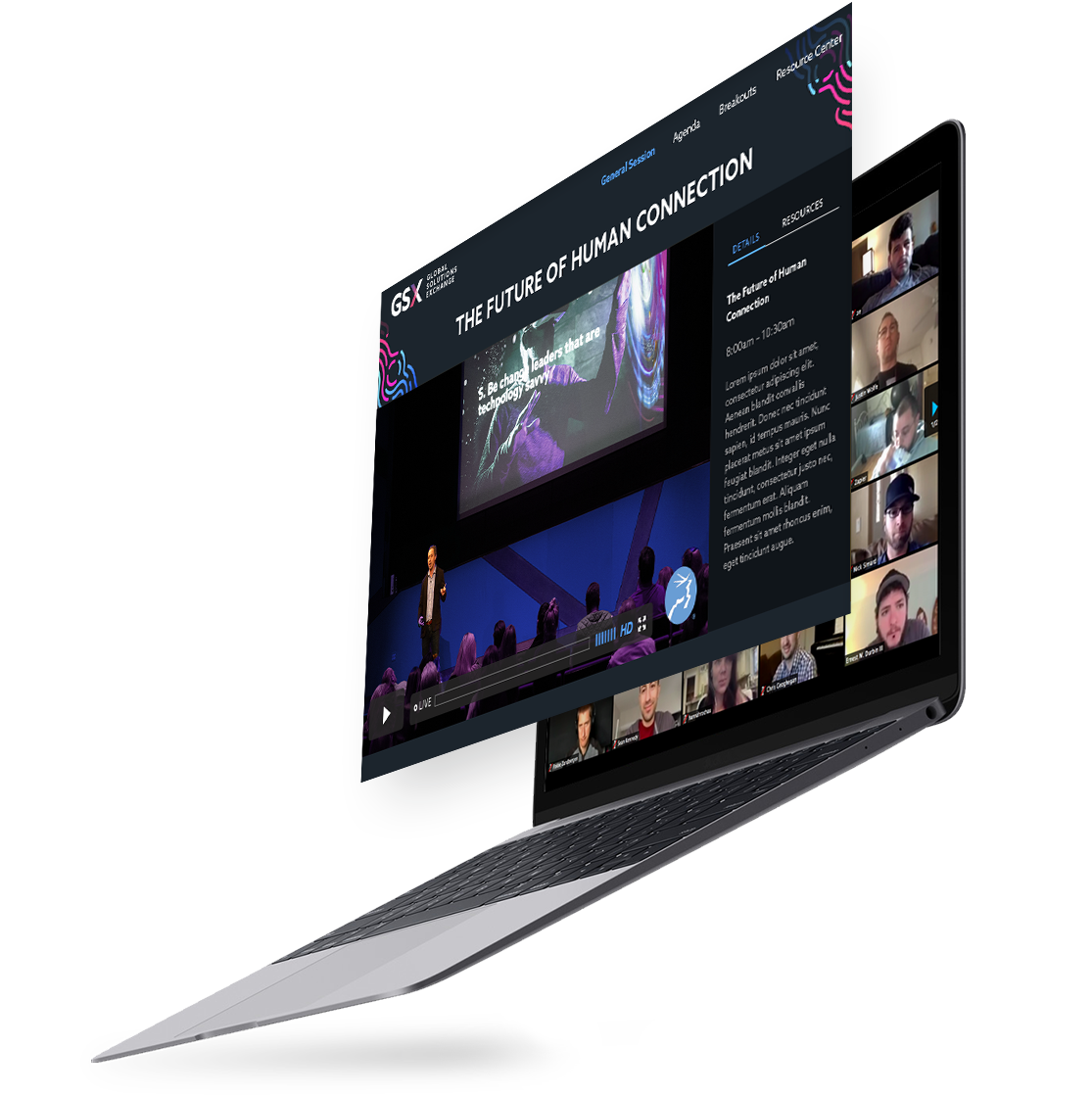 Our full-service event management and production teams will guide your virtual or hybrid experience from concept to completion.
Integrate web content tailored to your brand
Brand activations 

 

Customizable page templates

 

3D or 2D environment

s

 

Graphic, presentation, and motion designs

 
Your personal event contact will be at your side every step of the way
P

roject manage

rs

Information resource

 for all services

 

Experienced

 team members

 
Track engagement and

 user input
B

irds-eye view

 

of event

 

User data analysis

 

Engagement

 monitoring

 
Broadcast live from your office or our studio
Live or pre-recorded

 

production

 capabilities

 

Executive producers 

and

 production managers

 

V

ideo editing 

 

Virtual event studio

 
Make your one-of-a-kind event truly memorable
Live chat 

and

 polls

 

Event tool integration

 

Breakout rooms

 

Video conferencing 

 

Virtual e

xpo halls 

and content

 libraries
Offer each of your attendees an intentionally crafted experience
Personal agenda

s

 

Attendee directory

 

Email marketing

 

Guided

 registration

 
Your personal event contact will be at your side every step of the way
We'll assign a dedicated account manager to your virtual event from one of our offices in Denver, Boston, or San Diego. Our greatest strength lies in the dependability of our people; you'll soon understand why Unbridled has achieved 99% client retention.
Our full-service offerings allow us to manage everything in-house, so you'll never have to worry about playing telephone with multiple vendors.
You can rely on your project manager to help you organize and execute your event from start to finish.
Track engagement and user input
Our platform offers you a birds-eye view of your event in action. Detailed analytics provide real-time feedback on how your attendees engage with content. We use these insights to ensure your audience receives the best experience possible.
While user data is often utilized at the macro level, we are also able to provide exact details about attendee engagement. For instance, you can verify users' visits to individual pages on our platform — a helpful tool for tracking attendance during mandatory seminars, exhibit halls, learning labs, and more.
Make your one-of-a-kind event truly memorable
To ensure your audience stays connected and engaged for the duration of your event, we've designed our virtual platform with feature-rich functionality in mind.
Audience members can securely access pre-recorded presentations, live broadcasts, breakout sessions, personal agendas, media galleries, FAQs, and more from an easily navigable interface. In addition to offering app integration with services such as Cvent and CrowdCompass, our platform connects attendees to a variety of interactive content for a truly immersive virtual event experience.
Individual and group chat
Museums & Virtual environments
Fully customized digital design
Integrate web content tailored to your brand
To bring your event to life, our in-house design team will adorn the virtual platform with an original look and feel that reflects your company's unique style. This custom branding will inform the entire visual profile of your event — from individual graphics to a universal color scheme.
Before hitting the main stage, your event starts on the homepage. Our web design specialists will ensure every aspect of your website is polished to perfection. We also include optional add-ons such as a media gallery, social feed, and leaderboard to further boost engagement among your audience members.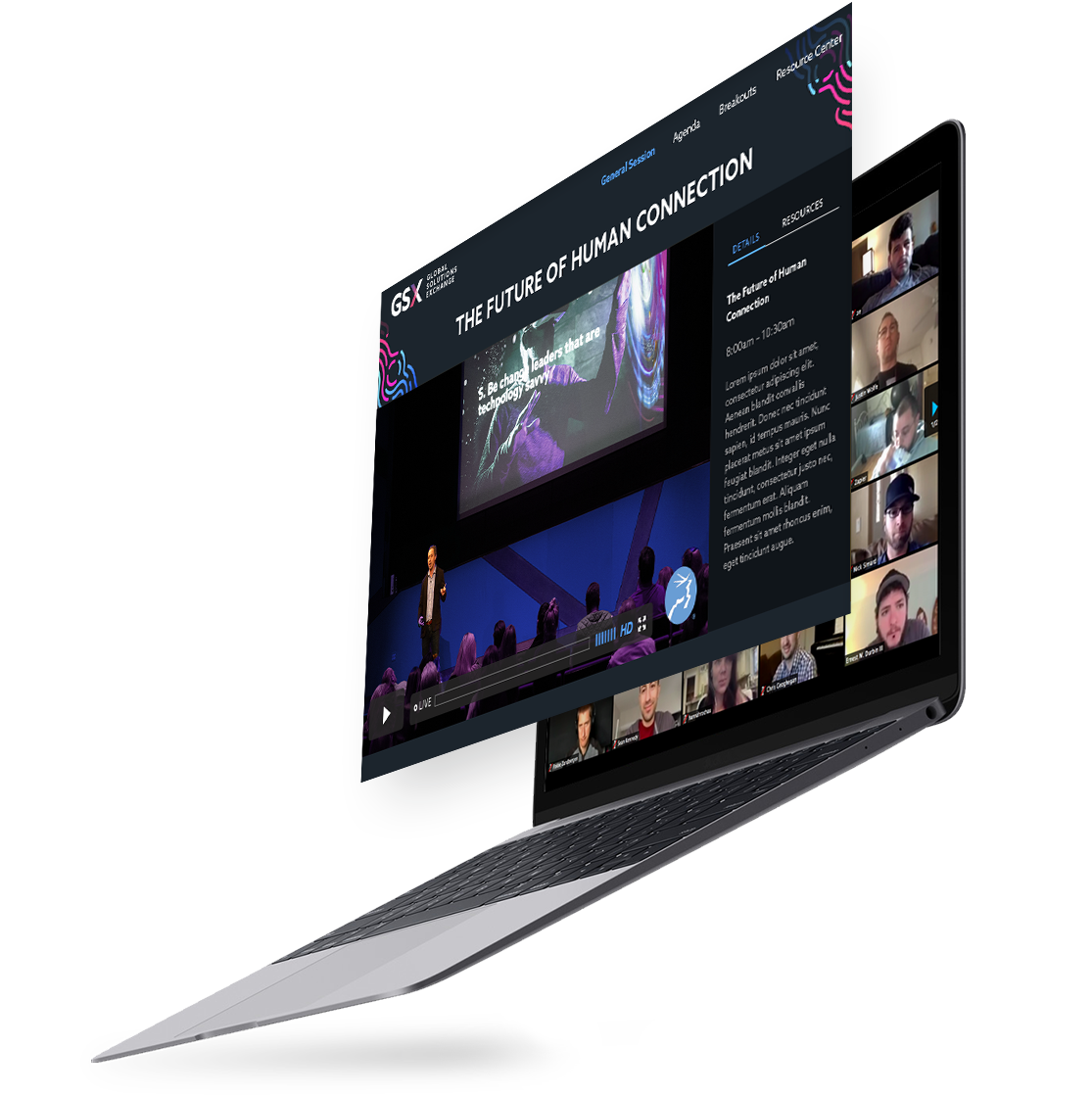 Broadcast live from your office or our studio
No one should ever view your virtual event as "just another video conference." Our team of executive producers and production managers are prepared to give your video content the professional treatment it deserves.
Whether you want to focus on live broadcasts, pre-recorded sessions, or a combination of both, we will make sure your event lights up the screen. No matter where you're located, we can accommodate your video requests with remote filming and editing services. Our in-house studio offers even greater recording opportunities for on-site sessions. Additionally, we will assist with speaker coaching and stage direction to ensure your team members deliver effective and engaging presentations.
Personalized event experience
Offer each of your attendees an intentionally crafted experience
Your guests deserve to feel welcomed even before your event officially begins. From the moment attendees first start the registration process, we roll out the red carpet to make their experience as seamless and satisfying as possible.
Audience members may access a personalized agenda, attendee directory, private social platform, and other custom features via a secure website or a specialized event app. We'll also create individually addressed emails and other teaser materials to build excitement in the weeks leading up to your event; every item will be made to serve as an extension of your organization's brand voice.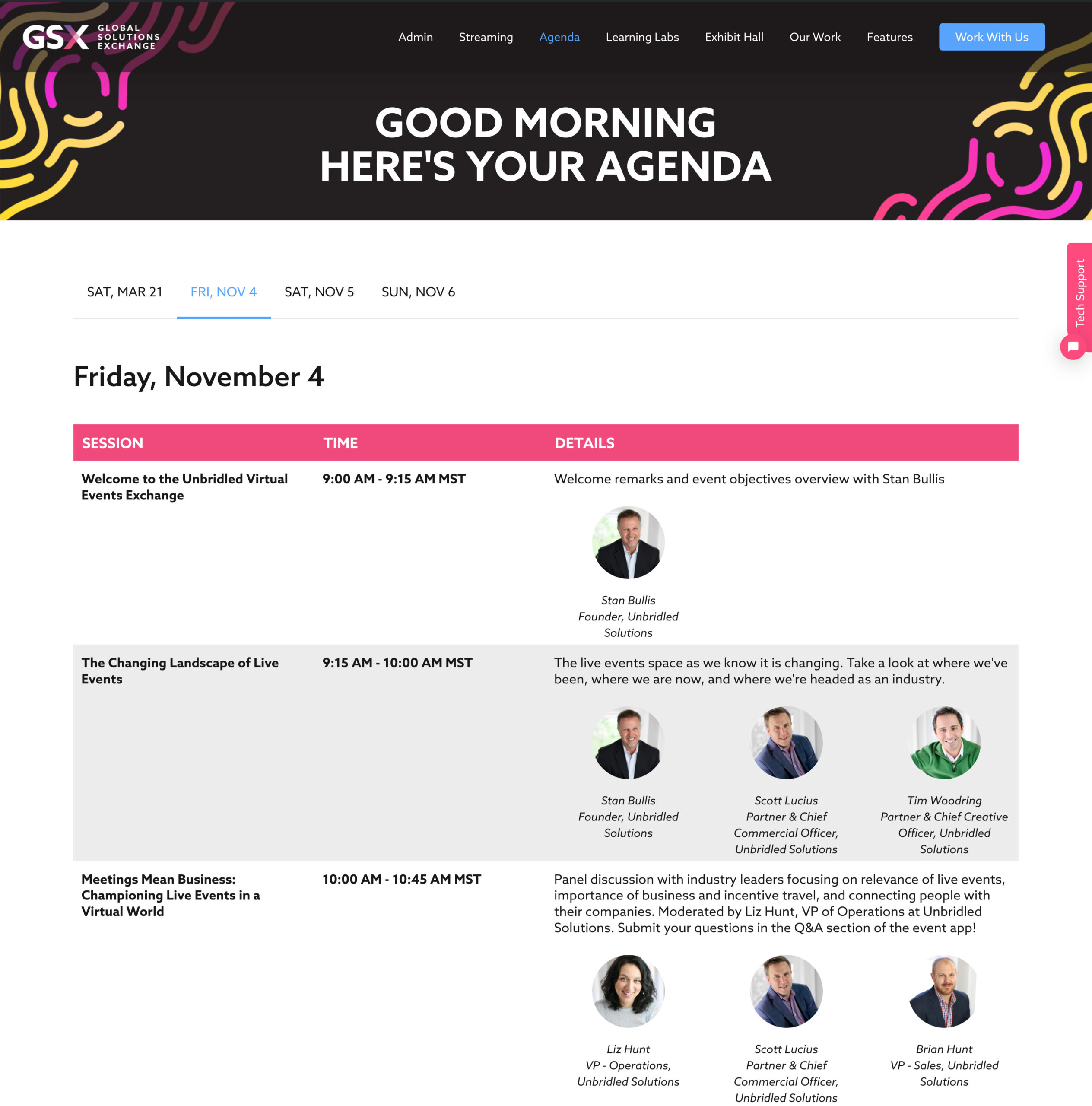 Personalized support for your event
Unbridled offices located in the U.S.A
DENVER (Corporate Office)
1115 Grant Street
Denver, CO 80203
260 Charles St, Ste. 302
Waltham, MA 02453
12250 El Camino Real, Ste. 230
San Diego, CA 92130
10 E Bridge St, Ste. 201
Rockford, MI 49341
117 West Argonne Ave
St Louis, MO 63122
Ready to plan? Download our free virtual roadmap.
Download this free guide to get a deeper into the world of virtual events. Get a quick overview on event communications, design, registration, breakouts, video production, and so much more.
Afterwards, we'll reach out after and schedule a demo of our virtual platform at your convenience.