"How's your company culture?" is not a conversation starter, but for as many hours of we spend at our jobs it is a wonder we don't ask the question more. Culture is the environment that shapes us, even when we aren't aware of it. It's the air we breathe. So…How's your air these days?
Culture Can Be An Amorphous Powerful Influence
Ten years ago, an article in the Harvard Business Review (HBR) titled, "Culture Matters Most" began with: "Corporate culture, like personal character, is an amorphous quality that exerts a powerful influence." If it is this influential then it would make sense that a company has a keen self-awareness of the kind of culture they are nurturing. To put it another way: know your character and where it leads. The HBR article noted that the shape of the culture is usually shaped by the leadership.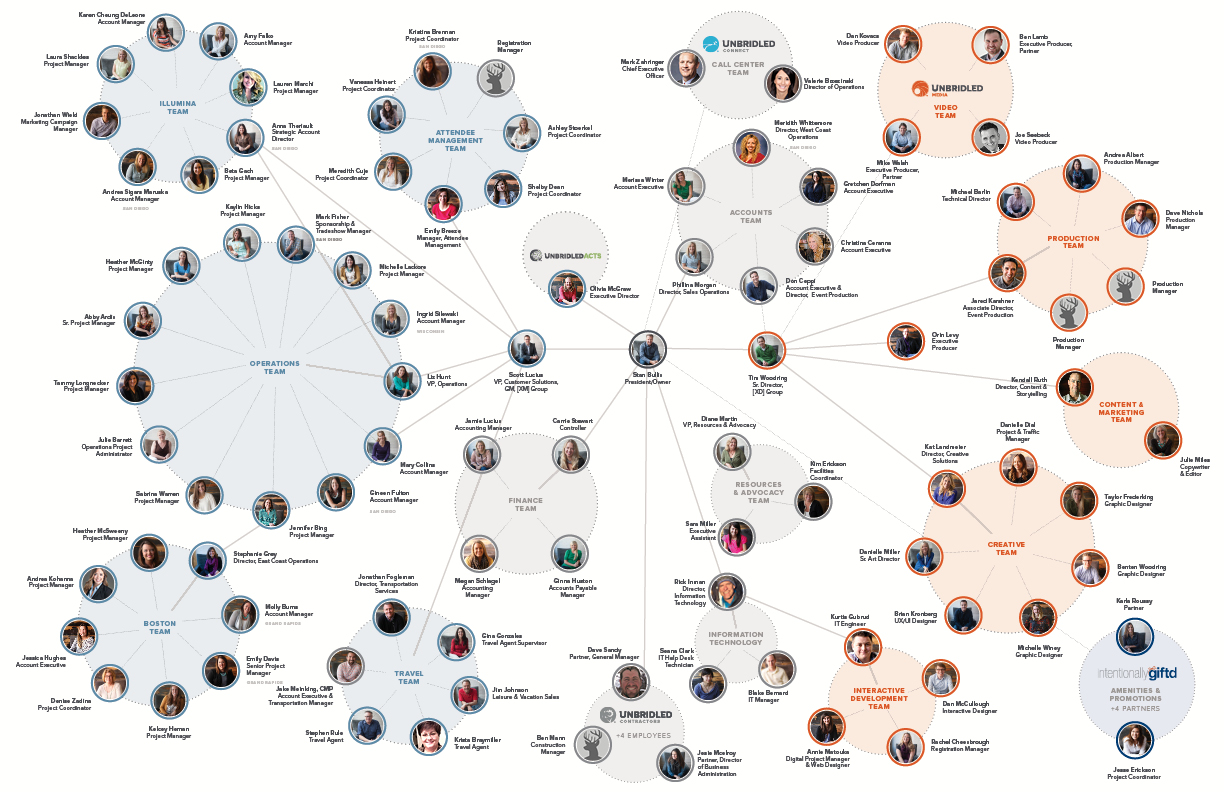 What if your company's structure isn't top-down but, like Unbridled Solutions, more along the lines of a collection of specialized teams collaborating together? Sure there are leaders, but with this model the influence isn't a few making the decisions for the many. Each sphere is an expert at what they do shaped by a culture they are also shaping. The outcome is a culture that places a high value on collaboration, the individual thriving of each advocate, and offers an extraordinary amount of latitude to take chances and fail or discover new successes. The "amorphous power" is less an ominous monster and more a generative ecosystem.
What Farming Says About Culture
In his essay, "Ambition: Lilies that Fester", author Eugene Peterson tells of writers that have shaped his understanding of ambition, vocation, and how to work well. One of the biggest influences on how he approaches his work and the people in his charge is the farmer-poet Wendell Berry. From Berry he learned that there is a kind of farmer that approaches farming with impatience, coercion, destructive manipulation: "They treat land not as a resource to be cared for but as loot to be plundered."
In reality, the farm is an ecosystem, "everything working with everything else in certain rhythms and proportions. The farmer's task is to understand the rhythms and proportions and then nurture their health…if all a farmer is after is profit, he will not be reverential before what is actually there but only greedy for he can get out of it." What if company leadership approached the individuals that work with – not for – them with a reverence and understanding of their rhythms? It may just be that they hire for the person and the position.
It matters little whether you are running a farm or a company, failing to patiently nurture and learn from the very elements that bring about a successful, thriving outcome, will produce short-term results with long-term collateral damage. The best company cultures are thriving ecosystems because everyone involved is paying attention to the rhythms and proportions. To answer the original question, the air is better up here.
Final food for thought: "Culture Care restores beauty as a seed of invigoration into the ecosystem of culture. Such soul care is generative: a well-nurtured culture becomes an environment in which people and creativity thrive." – Mako Fujimura
Final food for thought: "Culture Care restores beauty as a seed of invigoration into the ecosystem of culture. Such soul care is generative: a well-nurtured culture becomes an environment in which people and creativity thrive." – Mako Fujimura