It's been a year since we moved into the Grant Street Mansion…and celebrating our first anniversary here was the perfect occasion to share some of our favorite moments and unique characteristics of the Historic Landmark we're proud to call home. Special thanks to the Unbridled family for your heartfelt remarks…and to Camille Posard of Unbridled Media for capturing the spirit of the occasion so beautifully.
What people are saying…
I'm usually one of the first ones to arrive every morning and I have the pleasure of opening the front doors. This is like my home away from home. I enjoy hearing the youngsters running up and down the stairs since this no longer an option for me.  ~ Gina
This past year in the Mansion has been such a treat for us, and has changed the way we look at our place of work. The building and the people create something we never expected. Whether it's the sound of the fountain as we arrive in the morning, sitting on the porch in warm weather taking in the fresh mountain air, or celebrating the holidays by decorating a real Christmas tree, we love experiencing the changing of the seasons as we grow and thrive together. And no matter how hard the work is or how long we are away at programs, there's just something about the Mansion and all of you that always makes us feel like we are home.  ~ Registration Team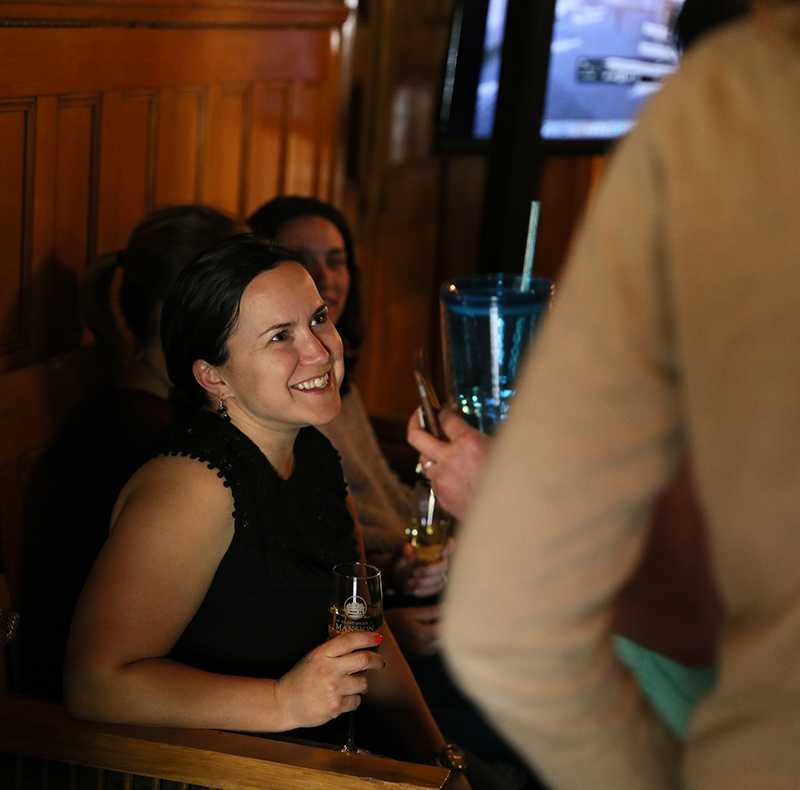 After having spent 22 years in cube farms, walking into the Mansion for the first time late last summer was eye-opening.  It didn't feel like 'an office,' it felt like a community. It still does today. I get so much satisfaction being here at the Mansion that I tend to ask vendors, contacts, and acquaintances to meet me here for a tour before heading to our intended meeting, even if it isn't here. ~ IT & Facilities Team
We think it's apropos that the Travel Team is the first face you see when you enter the Mansion. After all, without "travel," no one would make it to the great events the rest of the team creates…or know when their Jimmy Johns order arrives! We've grown accustomed to greeting our visitors, and we take pride in the "ooohs and aaahs" we hear as they take in the beauty of the Mansion.  ~ Unbridled Travel
The mansion is a beautiful place to work! I enjoy living so close that I can just walk to work and not drive my car. And I like it when Scott makes the perfect hamburgers outside on the grill! ~ Steve
I love spending lunch time on the front porch glider. It relaxes and entertains me. (The people watching! Oy Vey!) My family and I have always been "porch-sitters," from my Grandmother's neighborhood where she knew everyone…plus their kids, grandkids, pets, and gardens…to my parents' current porch. There's something unique about porches, and this one makes the Mansion feel like HOME to me. ~ Krista
My favorite aesthetic of the Mansion is occasionally around 4 in the afternoon when you begin to hear music drifting throughout the entire space…coming from the upstairs landing. It just puts a smile on my face.  ~ Reggie
The Mansion challenges the expectations of "office" in so many ways. It's comfortable, it's personal, and it's shared by individuals who feel more like family than coworkers. It allows for privacy, it encourages exploration, and it instigates interaction. We love welcoming visitors to our home, instead of just an office, and we truly believe we're building something really special here!  ~ Creative Team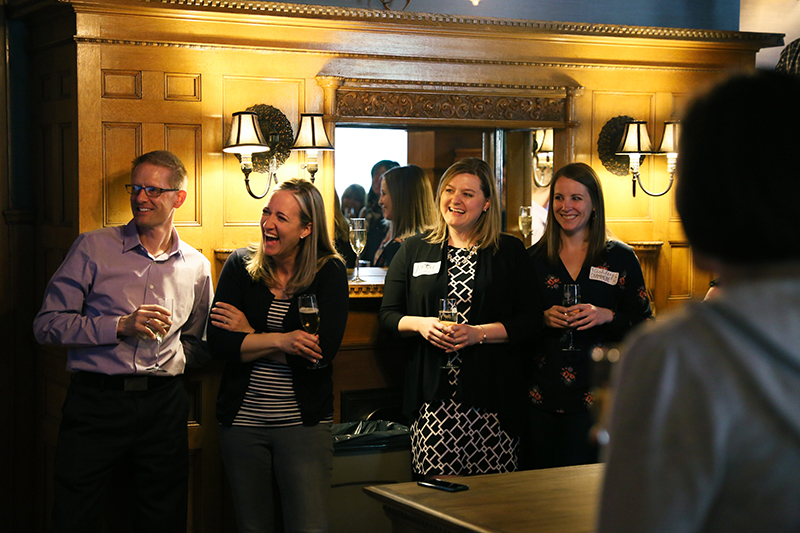 We look forward to each and every day…being able to spend time in this special home. Two of our favorite spots are the front porch and the kitchen…for similar reasons. They foster a sense of community, whether it's for a meeting, a meal, or an after-hours happy hour. Not eating at our desks – while hard sometimes when we're really busy – has turned out to be a great way to get us out of our department "cliques." You never know who you'll end up getting to know better by having lunch together, and it's perfect for staying connected to the whole Unbridled family.  ~ Production Team
There is a sense of pride and family at the Mansion. It is not just owned by one person, but rather an Unbridled Family. I love going to the kitchen and just hanging out like any other home. Eating in the kitchen "forces" people to get to know each other and share stories. I like the staircase and the squeaks in the floors. It reminds me of a place that has history and character. I know we are growing fast and building things even faster…I just hope our culture stays true through the growth, and that the fun and laughter never leave.  ~ Liz
In just six months, the Mansion is already my home away from home where I feel safe and loved…something I have never experienced at work before. I love the fireplaces in the Mansion…and all the windows. The natural light keeps me focused. The patios are perfect for collaborating with teammates to get the creativity going. And breaking bread together is my favorite. The Mansion provides so many bonding opportunities to grow, learn, and appreciate one another as coworkers and teammates. I have nothing but positive things to say about my work environment, and feel like I have to pinch myself every day to remind myself this is real and not a dream. ~ Katie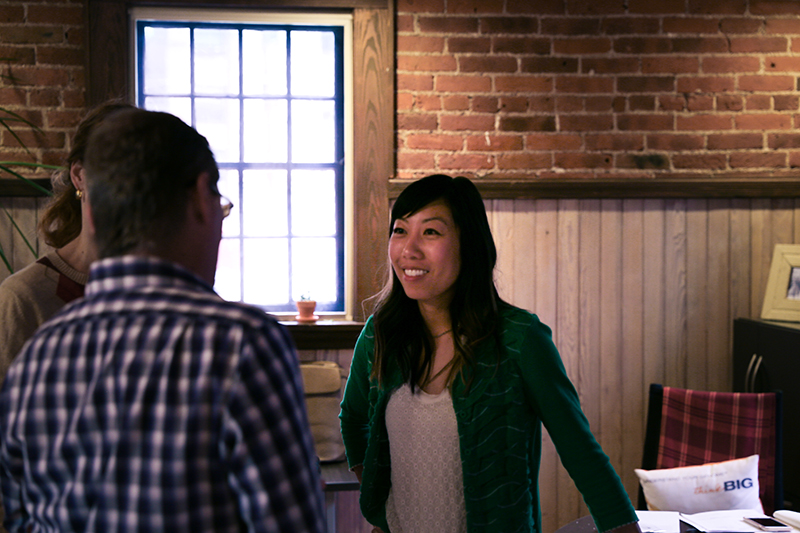 Intentionally Giftd has pretty much become a new company this past year…growing from just one full-time employee to three! We've enjoyed welcoming people as they walk — and sometimes trip — through the door. It's a great feeling to know that people love coming into our space and that it's calming with a great vibe. Opening the original barn doors in the morning, turning on the music, watering the plants…it's like home! And we're happy to have Media in the Carriage House with us. ~ Karen
I was reluctant, at first, to be in the Carriage House. I wanted to be with everyone in the Mansion. But over the past year, we've really grown to love this space and have made it our own — brightening it up with new paint and the chandelier. Our product shelf has really become a focal point for fun ideas and conversation.
Being in the Carriage House has allowed us to grow and be our own company…and our open environment is conducive to collaboration and creativity!  ~ Karla
My favorite features of the mansion are the intricate woodwork in the moldings, the meticulous reconstruction of the fireplace tiles, and the elaborate stained glass pieces. They remind me to act with intention and to take pride in everything I do, because the little details matter and, in fact, make up our character. Even when we think no one is paying attention.  ~ Breanne
Our mansion is not just telling stories from the past but the present, too. A home away from home. A place that brings enjoyment, love, laughter, and even the occasional tear. For me, it's like reliving my childhood. I'm given the chance to grow up with a second family that helps teach me the ways of life. It's like they say, dream big and reach for the stars! ~ Vanessa
I started at Unbridled three weeks after everyone moved in; therefore for me, the most significant thing that has happened was joining this amazing team and coming here every day. A huge sense of pride comes over me every time a new group of people comes for a tour. They are so intrigued by the history of the building, and it's an awesome feeling to be a part of its rebirth…making it as exciting and lively as it once was. My favorite spots in the Mansion are the kitchen and the large front porch. I love the communal spaces here; they make me feel like I am working in a community rather than a company. I love being able to run up the stairs to talk to Creative or downstairs to Production. Something about the warmth of the building makes me feel like I am home. I also love this little tidbit… the stained glass over the window in Scott's office and in the Library was recreated and installed by the grandson of the man who originally created and installed the glass when the mansion was first built. ~ Stacey
My favorite feature of the Mansion is the stained glass window I'm privileged to sit by. I learned while eavesdropping on a tour, that it was the artist's favorite piece and the only creation of this color palette in all of his works. I look at it when I need a boost of creativity! I obviously can't speak to Unbridled's pre-mansion era, but I attended the Mansion Open House last May and immediately thought, "I HAVE TO WORK HERE!" The energy and the people here are a huge part of why I decided to pursue my destiny with a career at Unbridled. ~ Brooke
As a history buff, I love that we live in a building that has so much rich history. It's also nice to see how Stan kept the historic look and feel but still has made it a professional, working environment. It's a comfortable space that brings people together, especially in the kitchen, patio, and on the large porch. ~ Mary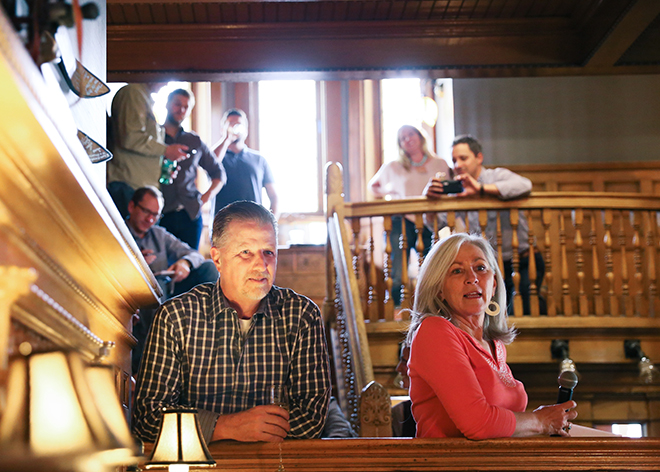 A word that comes to mind is PRIDE. I feel proud that I have the privilege to come here every day and collaborate with a team to overcome the challenges set before us. Whenever someone important in my life is available, I want to share this space with them. I think I enjoy sharing the fact that I've found a place that I belong and where I am welcome and at my best. Having a comfortable space to come together has allowed us to freely express our creativity and ideas. How many times have we grabbed a marker and transformed one of the empty dry erase boards into a roadmap leading to the success of another program? The ideas and images that come together on those boards are priceless, and a perfect example of the wealth we share as an Unbridled community. My favorite space is the second-floor landing, where the musical instruments are. Any time I walk through that space, even if there is no music being played, I feel a sense of the memories shared there while Stan and our other resident musicians grace us with their talents. Many a Friday afternoon, while still tapping away at my keyboard, is made more pleasant thanks to that music. No matter where you may be in the Mansion, the music from that landing can be heard.  ~ Jenn