If you had asked me a week ago how long I've known Gina, I would have told you two years…and I would have been wrong. Allow me to explain. It was two years ago that I first met Gina, but more like two days ago that I actually began to know her. And within two minutes of intentional, face-to-face conversation, I had a new appreciation for her kindness and courage …first, for agreeing to help us kick off a new series of Unbridled stories, and secondly, for admitting her uneasiness when she read the prompts for our little "interview."
Those acquainted with Gina will hear her self-assured voice in the answers below, confirming what you already know. And for those who have not yet had the honor, I hope you enjoy this glimpse into the heart of an Unbridled icon as much as I did. "I'm a private person," she revealed right up front. And with that, we settled into that universal tension between our desire "to know and be known" and the fear that often goes with it.
Describe yourself in 5 words.
I am grounded and loyal.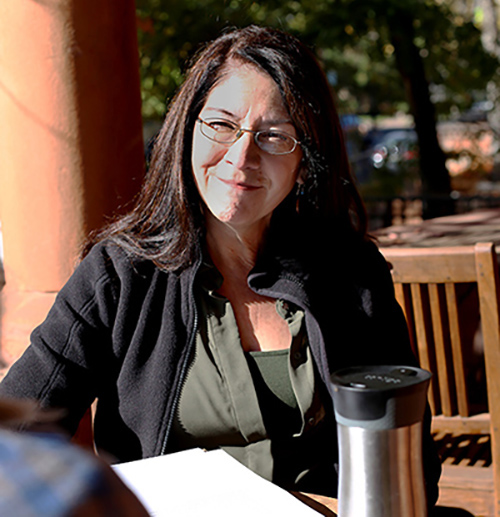 Name one thing we might be surprised to know about you (a secret talent, out-of-the-ordinary experience).
For 14 years, between the ages of 13 and 27, I traveled the country performing with a Mexican Folklore dance troupe.   
Share a life lesson you'll never forget that will benefit the rest of us.
Never stop learning. Dance taught me that following your dream requires discipline. I wouldn't have known the freedom of performing without staying focused and diligent through years of practice.
What did you want to be when you were a kid, and what do you still dream of doing and being today?
I loved dancing so much growing up that I didn't even date until I was 18. It was all I wanted to do. Couldn't wait to get to practice every day. And it paid off when my dream of performing came true. 
What keeps you awake at night (real or imagined fears and anxieties), and who do you tell?
Mainly my 85-year-old mother, who needs more care now. My sisters and I rotate cooking and having dinner with her each week. The condition of the world, too…I wonder how my grandchildren will be affected by it after I'm gone. My family is very close, so I confide in my sisters and my husband. 
How do you show the people in your life that you value them?
I grew up in a culture with a strong value for family. So strong, in fact, that I may overdo it with my own family. I tend to go above and beyond to support my husband, children, and grandchildren. It also carries over with my team here at Unbridled….

Who influenced who you are today, what inspired you about them, and how do you carry on their impact?
My mother taught me to be a good mother to my own children. And to multi-task! It's an honor to care for her now. My father taught me to see the worth of every person, regardless of ethnicity. He taught me the value of listening over talking, and to respect and care for elders.* 
What have you done that you're most proud of, that you hope to be remembered for as your legacy?
Sharing my love for dance with my children, passing the passion on to my daughter, who excelled  far beyond my own accomplishments, and later teaching for 15 years at DPS. I was 40 when the position was offered, and even though I wasn't sure I still had it in me, I had to do it. To love something so much..something that opened opportunities I wouldn't have had otherwise…I knew I had to share it.
In your 9 years at Unbridled, what has been one of your most defining moments?
When Stan trusted me enough to manage Unbridled Travel, just four months after I started. He used to call me "Teflon."  My interview with Stan was defining, too. He agreed to a flexible schedule so I could continue teaching dance…which I did through 2012. We had moved to Blake Street by then…from "the fishbowl."  
How do you tend to react to work stress, e.g. pet peeves, communication breakdowns, or personality clashes?
I step away from my desk, get some fresh air (even when it's freezing outside), and remind myself, "This too shall pass." Because of the stressful nature of our work, I'm very aware of how my team is doing. My tendency is to reach out and make sure they're doing ok…and they reciprocate. My goal is to be a communication bridge between teams to keep the flow of information from backing up or breaking down. 
When are you happiest in your life, and why?
Oh, there are so many times. When I'm with my grandkids. And I love early morning. I always feel happy when I drive up to the Mansion at daybreak. I love it here. It feels like home.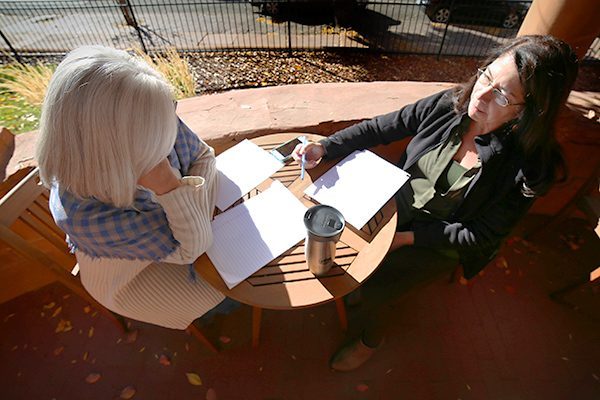 * The Rodolfo "Corky" Gonzales Branch of the Denver Public Library is named in honor of Gina's father, a nationally recognized civil rights leader, who died in 2005.